UltraCut Flex Wing Mower Decks
Productivity equals profitability for landscape maintenance professionals, so it's no surprise that bigger really is better. Building on the runaway success of the 96-inch UltraCut Flex Wing cutting deck, we've once again raised the productivity bar with the awesome new 144-inch UltraCut Flex Wing cutting deck, available on the Lazer Z Diesel. All UltraCut Flex Wing cutting decks are engineered to not just be more productive, but also deliver the durability and signature cut quality Exmark owners expect.
Why Choose a Wider Deck?
For landscape professionals, increased productivity is the number one reason for choosing a larger cutting deck. That said, every landscape pro knows it is cut quality that brings customers back, so balance is necessary.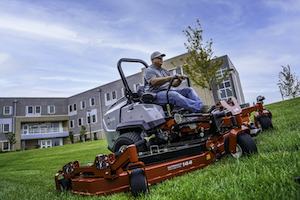 Based on customer feedback, Exmark has designed UltraCut Flex Wing cutting decks to excel in four key areas:
Productivity – increased cut width and mower speed maximize the productivity of each worker.
Cut Quality – the articulating Flex Wing cutting decks precisely follow ground contour.
Reduced Maintenance – sealed, zero-maintenance spindles and reduced grease points offer extended service intervals to minimize in-season maintenance needs.
Commercial Durability – the PTO-driven cutting deck, heavy duty drive system and cutting-edge commercial engines deliver maximum long-term durability and value.
Improved Productivity
When compared to a 72-inch mower, UltraCut Flex Wing cutting decks have up to twice the cutting width. This significantly decreases the time it takes to finish jobs. In fact, users report that one 144-inch Lazer Z Diesel zero-turn mower can replace up to three 72-inch mowers, mowing the same area with two fewer mowers and operators.
A Lazer Z Diesel mower equipped with a 144-inch UltraCut Flex Wing cutting deck can mow up to 11.5 acres per hour. When equipped with a 96-inch UltraCut Flex Wing deck, the Lazer Z Diesel can mow up to 9.5 acres per hour. The gas-powered 96-inch Lazer Z X-Series zero-turn mower is capable of mowing up to 8.5 acres per hour. The combination of increased cutting widths and robust commercial power plants makes these the most productive mowers Exmark has ever built.
Cut Quality
The bat wing-style UltraCut Flex Wing cutting decks feature a 48-inch center deck with two wing decks. On 144-inch models, the wing decks are each 48-inches wide, while the wing decks on 96-inch models are 24-inches wide. When combined with Exmark's rear-discharge deck design, the UltraCut Flex Wing decks deliver a signature cut quality in less time than ever.
Capable of articulating up to 20-degrees up and 15-degrees down to precisely follow ground contour, the wing decks fold hydraulically to minimize trailering space. Cut height is hydraulically adjustable, from 1.0 to 5.5-inches in quarter-inch increments.
Reduced Maintenance
Like all Exmark products, the UltraCut Flex Wing cutting decks are engineered to reduce maintenance and associated downtime. The design uses standardized blades – the same as a 72-inch UltraCut cutting deck – to ease blade sourcing and replacement.
Exmark's sealed bearing blade spindles are designed to last the life of the machine with zero maintenance, and with just three in-season grease points, UltraCut Flex Wing cutting decks maximize in-season uptime. Plus, the floor pan and belt covers require no tools to remove, enabling easy access to the PTO, belts, and gearbox.
Commercial Durability
Fully fabricated and seam welded from 7-gauge high-strength alloy steel, UltraCut Flex Wing cutting decks are built to thrive in the most challenging mowing conditions. The PTO-drive system uses a wet clutch system integrated into the mower transmission to increase load capacity and overall durability of the deck drive.
Zero-maintenance sealed blade spindles use large 7.75-inch cutter housings and 25mm (.98-inch) diameter spindle shafts with splined blade drivers for unmatched long-term durability, efficiency, and smooth operation.
Is an UltraCut Flex Wing Cutting Deck Right For Me?
If you're a landscape professional that maintains large commercial or public properties, or a municipality or government agency responsible for maintaining a wide range of open spaces, it's worth learning more about the advantages an UltraCut Flex Wing-equipped Lazer Z can deliver. It will raise your bar for zero-turn mower productivity and help you do more, and earn more, every day. Contact your local Exmark dealer to arrange a demo.