Lazer Z X-Series EFI
As low as
$13,399 / $247 mo
And with our top-of-the-line Lazer Z EFI X-Series, there are plenty of boxes to check. For starters, you can choose from five rugged, commercial-grade engines, including high efficiency Electronic Fuel Injection (EFI) options. Which also features our exclusive EGov and RED Technology which help boost fuel efficiency. The X-Series EFI lawn mower also features our UltraCut™ Series 6 deck in 52-, 60-, 72- and 96-inch cutting widths. Whatever combination you choose, operators will ride in unrivaled comfort thanks to our unique seating system. There's even a standard 12-volt adapter to keep devices charged. So, if you're looking for our top-of-the-line mower, the Lazer Z X-Series should be at the top of your list.
Mower Deck Widths:
52"
60"
72"
96"
Schedule a Demo
Lazer Z X-Series EFI Features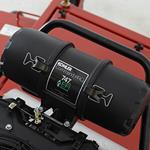 Eco-Friendly
Reduces fuel consumption, fewer emissions and carbon footprint.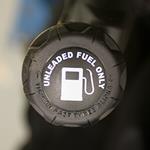 Fuel Savings
Delivers up to 25% in fuel savings.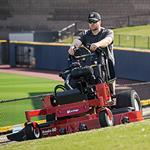 Reduce Green House Gases
Fuel saved directly correlates to reduced harmful exhaust emissions, including green house gases.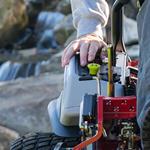 Easy to Start
Easy start in any altitude or climate condition (no manual choke).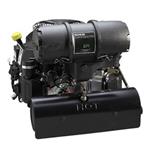 Engine Efficiency
Closed loop (with O2 sensor) monitors combustion and keeps engine running at optimum levels.
Sequential Fuel Injection
Delivers the precise amount of fuel and spark where needed to maximize efficiency and power.
Model Specs
Specific models may not be available in certain regions.
View Brochure
Blade Spindles

No maintenance, sealed and non-greasable spindles; 7.75"-diameter cutter housing with 30mm (1.18") diameter spindle shaft and splined blade driver.

Drive Tires

23 x 9.5-12, 4 ply Turf Master®

Tractor Frame

Unibody, welded, heavy-duty 1.5" x 3" tubular steel.

Steering Control

Hydraulically dampened twin levers, adjust fore and aft. Adjustable dampeners (3 positions) to customize drive responsiveness. Also adjustable to 2 height positions.

Front Caster Tires

13 x 5.0-6, smooth-tread, semi-pneumatic.

Parking Brake

Lever-actuated disc brake.

Seat

Deluxe, two-tone, bolstered suspension seat with Elastomeric Vibration Control material. Mounted on innovative Seat Isolation System that provides operator isolation in all three planes of motion as well as fore-aft slide and seat flip-up.

Electrical

12-volt battery with 20-amp alternator.

Onboard Intelligence

RED Technology

Standard Features

12-volt plug-in, engine hour meter and cup holder

UPC

193308000664
Engine Brand

Kohler

Engine Model

ECV740

Engine Displacement

747

Engine Series

Command™ EFI

Engine Speed

3,650 RPM

Air Filter

Heavy-duty canister air filtration system

Fuel Type

Gas EFI

Fuel Capacity

12-gallon (45.4-L), single fuel tank with single fill location.

Fuel Indicator

Yes - electronic Sender

Drive

Hydro-Drive

Drive Description

Two Exmark exclusive Parker unitized pump and wheel motor systems with no hoses, integrated cooling fans, 1.7-quart integrated reservoir, spin-on filter and heavy-duty components. 12 cc pumps and 14. 5 cubic inch motors.

Speed

Infinitely variable speed selection from 0–10.0 mph (16 kmph) forward, 0–6.0 mph (9.7 kmph) reverse.

Carb Compliant

No

Deck Lift

Standard; foot-controlled deck lift changes cutting height and lifts the deck to maneuver around obstacles, or place in transport position.

Safety Package

Operator Presence Controls (OPC) and drive system interlock, with safety interlock system indicators.

ROPS

2-post foldable ROPS standard with seat belt and latch.

PTO Engagement

MagStop electromagnetic 200-ft-lb clutch with spot brake

Drive Wheel Release

Allows unit movement without engine running.

Casters

.50" thick caster yoke arms.

Engine Spec

3055
Width / Cutting Deck

52"

Deck Style

Floating Deck

Deck Style Description

Full-floating UltraCut Series 6 with heavy-duty spindle. Side discharge standard with the option to bag or mulch.

Deck Construction

10-gauge top that is formed and continuously seam welded, 7-gauge side skirt and 7-gauge reinforced spindle mounting locations for improved strength and reduced weight.

Blade Tip Speed

Approximately 18,500 fpm.

Cutting Heights

1.0" (2.5 cm) to 5.5" (11.8 cm) in 0.25" (0.64 cm) increments adjustable from operator's seat.

Blades

3 Blades at 18.00" Length
Width

64.8 in. (164.6 cm)

Length

79.2 in. (201.2 cm)

Height

70 in. (177.8 cm)
Extended Drive Lever Kit
Improve your elbow room while you operate with extended drive levers.
UltraVac Completing Kit
KIT, UV DRIVE 526
Harness Add-On Accessory Kit
Take the hassle out of dual accessory fit up with this add-on harness.
Wiring Harness Relay
WIRING HARNESS RELAY
Light Kit (not compatible with TC26)
Light Kit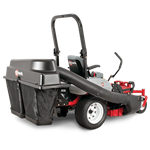 UltraVac 2-Bag Collection System
Switch between bagging and side discharge with quick-attach capability. Avoid clogging with larger diameter tubes. Compact design minimizes trailer space for easy maneuverability. Sealed hood reduces dust.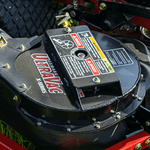 UltraVac Quick Dump Collection System
The UltraVac X Series discharges grass quickly with one simple motion of the release lever. With commercial-grade steel and polyethylene hopper Get the job done efficiently with rear-discharge door, and 7 bushel capacity.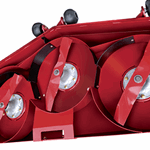 Micro-Mulch System
The aerodynamically designed deck, baffles and blades create airflow patterns that circulate leaves and grass for repeated cuttings and even dispersal deep into the turf. Mulching baffles also keep the underside clean, which reduces grass buildup and clumping.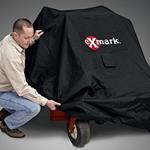 Equipment Cover
Protect your zero-turn mower from the elements with this sturdy, waterproof cover. It's constructed from tough 600-denier polyester, making it abrasion- and tear- resistant. Its elastic opening provides a secure, snug fit.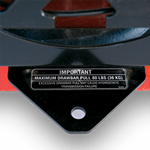 Hitch Kit
Enables owners to add attachments to their mowers to increase productivity by towing light implements and yard carts.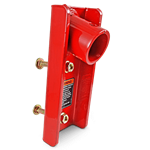 Jack Mount Receiver
Safely access the underside of your zero-turn mower's deck. Used with Exmark's Bulldog jack (p/n 127-6666 sold separately) attaches for smooth lift without hassle or strain, thanks to its comfortable, ergonomic design. Built for years of reliability.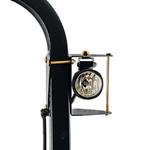 Light Kit
Keep mowing after the sun goes down with brilliant, 27-watt halogen power from this Hella® Work Lamp Kit. Easily mounted to your ROPS bar, the highly durable lenses repel dust, withstand impact, and can even take on high- pressure cleaning. With twice the illumination output of a conventional work lamp, the kit also features a pivot base and easy bulb replacement.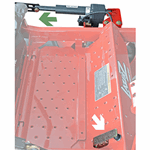 Power Deck Lift
Change your deck from any cutting height to the transport position quickly and easily, with a convenient foot pedal actuator switch that lets you keep your hands safely on the drive levers. Created specifically for your 48-72" cutting deck Lazer Z, its electronic motor features Exmark's signature durability and a low-profile design that leaves plenty of trailer space.
Air Ride Suspension Seat
Designed to fit all Lazer Z models, the new air ride seat gives you the best comfort available. Sophisticated air suspension technology virtually eliminates any bumps, jarring or vibration your property delivers.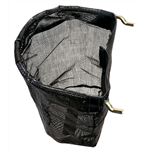 Trash Container (Not compatible with 135-7320)
Conveniently located within easy reach of the operator, this trash container features a 2.5-gallon capacity and durable, easy-to-clean mesh receptacle. See dealer for fit- up information.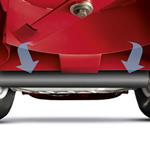 Turf Striping Kit
Fits 48", 52" and 60" models. Customize your property with consistent and professional striping using a smooth operating roller design. Installs quickly, using existing mounting points, and easily adjusts for varying cutting height settings. Does not affect your ability to get up and over curbs.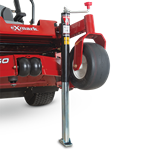 Jack
Easy to use, 15" stroke Bulldog jack, gives you plenty of room to change blades or perform routine deck cleaning (jack mount receiver not included).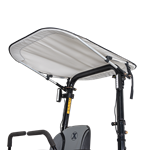 Sun Shade (ROPS)
Easily mounts to Rollover Protection System (ROPS). Made of heavy-duty, water- repellent canvas for maximum durability. Easily removable for transport. Fits all Lazer Z and Pioneer models. (Does not fit Quest.) (Replaces 116-0513)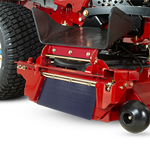 Operator Controlled Discharge (Foot)
The infinitely adjustable blocker door opens and closes by using the convenient foot pedal, allowing the operator to quickly control discharge when mowing around parked cars and windows. Easily installs and removes without tools.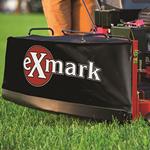 3-Bushel Bagger
Lightweight and easy to attach, this 3-bushel grass catcher fits all Exmark Lazer Z, Pioneer, Radius, Vantage* and wide-area walk-behinds. (*Not available for Vantage Propane models.) 116-7042 spacer adapter required for 36" deck models.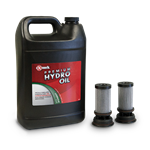 Hydro Maintenance Kit
Kit includes: 1 gallon jug of Exmark® Premium Hydraulic Oil and 2 Hydro Filters (Replaces 116-3270)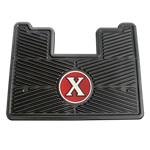 Floor Mat
Keep your Lazer looking its best by protecting the floorpan from scuffs and dirt. Fits all Lazer models (model year 2009 and higher).
1,500 Hours (with No Hour Limit the First 2 Years)
Lazer Z EFI Warranty
We have you covered
Download PDF