Quest S-Series
As low as
$4,499 / $83 mo
The Quest S-Series residential zero-turn lawn mower truly goes the extra mile as a commercial-grade zero-turn rider for homeowners. The S-Series provides all the amenities of the E-Series plus even more commercial-grade features. Like the ultra-smooth serviceable ZT2800 hydro drive system. Or the Series 2 fabricated deck. It's heavy-duty 10-gauge steel and welded wear strip gives you a great cutting machine that will last. Available with a choice of 50- and 60-inch deck sizes. So, if you're looking for the ultimate commercial-grade mower for home use, look no further than the Quest S-Series, from Exmark.
Mower Deck Widths:
50"
60"
Schedule a Demo
Quest S-Series Features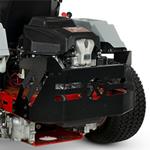 Engine Protection
Standard, rear engine guard provides increased protection of critical engine components. The S-Series engine guard is enhanced for extra engine protection.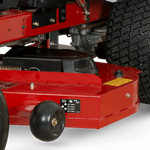 Welded and Fabricated Deck
Our deck system offers added strength and commercial durability.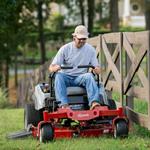 New Styling, Same Comfort
The redesigned Quest mower has the commercial Exmark styling and provides a premium, ergonomic seat system that delivers a smooth, comfortable ride, even over uneven terrain.
Simple, Easy Adjustments
With a single-point height adjust, it's easy to vary the Quest's cutting deck. The S-Series mower is quipped with a foot lift-assist, which eases lifting and lowering the cutting deck. (Optional on E-Series.)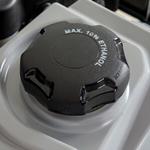 Fuel Tank Capacity
A single, 2.9-gallon tank with one fill location keeps you mowing longer with fewer fill-ups.
Exmark Engines
Built precisely to our specifications allowing us to control engine quality from start to finish. Super-quick and easy oil drain system, and an advanced air intake system specially designed to decrease dirt ingestion and increase performance.
Model Specs
Specific models may not be available in certain regions.
View Brochure
Blade Spindles

No maintenance, sealed and non-greasable spindles; 5.50"-diameter cutter housing with 0.67"-diameter spindle shaft.

Drive Tires

20 x 10.0-10, 2-ply Turf Tech TL

Tractor Frame

Unibody, Riveted 10 ga. Steel

Steering Control

Hydraulically dampened twin levers, adjustable both fore and aft. Levers are also adjustable to 2 height positions.

Front Caster Tires

13 x 6.5-6 smooth, pneumatic

Parking Brake

Lever-actuated pawl brake.

Seat

Commercial Grade High Back contoured foam padded with armrests. Hinged mounting, spring suspension. Adjustment: Fore and aft from Operators' Position.

Electrical

12-volt battery with 15-amp alternator.

Standard Features

Engine hour meter, cup holder

UPC

193308000343
Engine Brand

Exmark

Engine Model

LC2P77F

Engine Displacement

708

Engine Series

V-Twin

Fuel System

Carbureted

Engine Speed

3,600 rpm

Air Filter

Standard Engine Manufacturer's air filter

Fuel Type

Gas Carbureted

Fuel Capacity

High-capacity, 3.0-gallon (11.0-L), single fuel tank with single fill location.

Fuel Indicator

Translucent Visual

Drive

Hydro-Drive

Drive Description

Two Hydro Gear ZT2800 hydrostatic transmission with charge pumps, no hoses, integrated cooling fans, spin-on filter and heavy-duty components.

Speed

Infinitely variable speed selection from 0–7 mph (11.3 km/h) forward. 0–3.4 mph (5.5 km/h) reverse.

Carb Compliant

No

Deck Lift

Standard; lever lift. Foot-assist with spring assist lifts the deck to maneuver around obstacles

Safety Package

Operator Presence Controls (OPC) and drive system interlock.

ROPS

None

PTO Engagement

MagStop electromagnetic 105-ft-lbs clutch

Drive Wheel Release

Allows unit movement without engine running.

Casters

.38" thick caster yoke arms

Engine Spec

K5045
Width / Cutting Deck

60"

Deck Style

Floating Deck

Deck Style Description

Exmark Series-2 fabricated and welded steel deck. Side discharge standard with the option to bag or mulch.

Deck Construction

10-gauge top that is formed and welded, 12-gauge side skirt and 3/16" welded bumper.

Blade Tip Speed

Approximately 18,500 fpm.

Cutting Heights

1.5" (3.8 cm) to 4.5" (11.4 cm) in 0.5" (1.3 cm) increments, adjustable from operator seat with standard foot operated assist.

Blades

3 Blades at 20.50" Length
Width

75.2 in. (191.0 cm)

Length

77.0 in. (196 cm)

Height

42.6 in. (108.2 cm)

Curb Weight

681
Bag Mount Kit
Mount kit for Quest bagger.
Weight Kit
Add weight to the front end of your Exmark. Enhance stability and control when using Exmark stand-ons.
Hitch Kit
Enables owners to add attachments to their mowers to increase productivity by towing light implements and yard carts.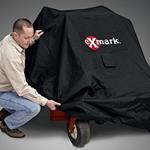 Equipment Cover
Protect your zero-turn mower from the elements with this sturdy, waterproof cover. It's constructed from tough 600-denier polyester, making it abrasion- and tear- resistant. Its elastic opening provides a secure, snug fit.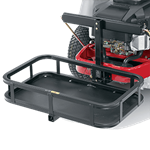 Cargo Carrier (Weight Kit Required 131-7658) & Bag Mount Kit Required 131-3966)
Perfect for hauling capabilities like mulch, soil, garden tools and other items for working in the yard. No "jack knifing" and it is easy to store.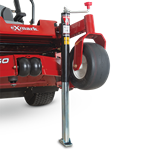 Jack
Easy to use, 15" stroke Bulldog jack, gives you plenty of room to change blades or perform routine deck cleaning (jack mount receiver not included).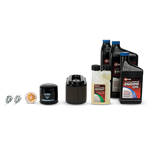 Engine Maintenance Kit - Exmark V-Twin
Contains everything a do-it-yourselfer needs to keep their Exmark running like new. Includes oil, oil filter, fuel filter, air filter, spark plug and fuel treatment.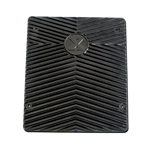 Floor Mat
For the perfectionist in all of us. Keep your machine's floor pan as nice as the day it was new with this custom-fit floor mat. Fits Quest.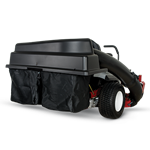 2-Bag Collection System - Non-Powered
Switch between bagging and side discharge with quick-attach capability. Avoid clogging with larger diameter tubes. Compact design minimizes trailer space for easy maneuverability. Sealed hood reduces dust.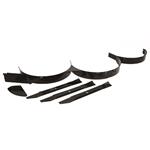 Micro-Mulch System
Fits 60" decks. The aerodynamically designed deck, baffles and blades create airflow patterns that circulate leaves and grass for repeated cuttings and even dispersal deep into the turf. Mulching baffles also keep the underside clean, which reduces grass buildup and clumping.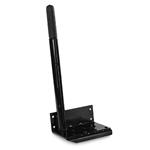 Bar and Step Assist Kit
Helps you to step on and off your Quest with ease. The telescoping bar adjusts to your height. Step contains anti-slip tread material and the handle is covered with soft rubber for comfort.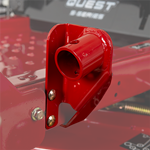 Jack Mount Receiver
Safely access the underside of your zero-turn mower's deck. Used with Exmark's Bulldog jack (p/n 127-6666 not included), attaches for smooth lift without hassle or strain, thanks to its comfortable, ergonomic design. Built for years of reliability.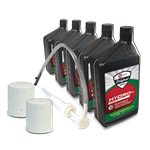 Hydro Maintenance Kit
Kit includes: 5 Bottles Exmark Premium Hydraulic Oil and 2 Hydro Filters